1. Wall-Plugable Ethernet Bridge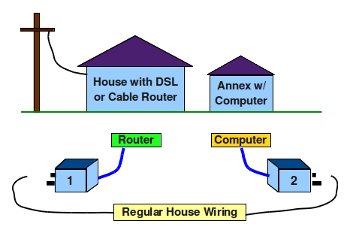 The Problem: The wireless or Ethernet signal from a router connected to the Internet will not reach a distant annex of a house where there is a computer in an office that needs the Internet.


A Possible Solution: A wall-plugable Ethernet bridge consisting of two small plugable units is needed to bridge the router to the computer via the regular house wiring. The Ethernet bridge units work out how to put the signal from the router to the computer.


What's nice about this system is that both the wall-plugable units come with wireless capability themselves making for less trouble with Ethernet cables. All that's required is that the house and annex power in the walls both connect from the same tie point at the street power pole which is the normal configuration.



2. Why I Like LibreOffice
Fast backward to the time of Microsoft Office 2003 for a moment. This office suite with Microsoft Word, Excel and PointPoint had it all as far as I was concerned. Its shortcomings were few and even some of those were not the fault of the suite. I could open documents from earlier Microsoft Office versions and they opened on so many computers. Then Microsoft Office 2007 and later Microsoft Office 2010 appeared. My 2003 version couldn't open the newer formats without special add-ons, and for me worst of all was the new ribbon bar that made for endless searching to figure out how to do something routine.


Fast forward to the present now to see the current landscape. Other than the paid version of Microsoft Office, Microsoft Office Starter Edition in new computers allows for a free version of Microsoft Word and Microsoft Excel--though apparently it's not the full featured applications that you get with the paid version. Microsoft PowerPoint is now a costly extra. As you can imagine, I really wanted my paid copy of Microsoft Office 2003 back, but no; it's incompatible with Windows 7 and it's no longer even for sale. Apparently, as I write this, the free Microsoft Office Starter Edition is going away too when the newer Microsoft Windows comes out this Fall.


Since my computing world now includes Microsoft Windows and the Linux distribution Ubuntu, I needed something I could use and share across these platforms giving back the look and feel of Microsoft Office 2003. Surprise! LibreOffice from http://LibreOffice.org elegantly meets all of my requirements and more! Libre Office has Writer, Calc and Impress which have the corresponding Word, Excel and PowerPoint features I want, along with an ability to read and write many of the common document formats such as .doc, .docx, .xls, .xlsx, .ppt, .pptx, etc. And last, because it's from an open-source community, the package is free to use and to distribute on the platforms of Windows, Mac and Linux. LibreOffice also includes Draw (a drawing tool) and Base (a database tool) along with some other tools. I donated some money to The Document Foundation that maintains LibreOffice because I like LibreOffice so much and they could use the donation. For now I'm a really happy camper.



3. Recovers.org
From the website Recovers.org: The idea is to set up a self-functioning website specific to a community--all set to swing into action when a disaster occurs. Included with the package is training of key volunteers to run the local website and to keep it current. In short it is a practical methodology for a community to set up a local disaster recovery planning before a disaster occurs.

In contrast to the expected, recovery teams from FEMA and United Way which broadcast emergency services to many people for a short period of time, recovers.org focuses on what local communities can do to insure continuing help person by person for the long period after a disaster when people are dealing with insurance claims, recovering pets, finding their belongings, reconnecting displaced people, etc.

Have a look at their website to see what the possibilities might be for your town or city to have its own community-powered recovery.