2. Problems with Wireless Keyboards and Mice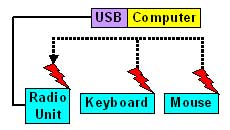 Wireless keyboards and mice are great...but they have their foibles. Remember the mantra: "Cats eat mice and mice eat batteries!"

Usually keyboards take 2 AAA batteries and mice take 2 AA batteries. (Should be the other way around in my opinion, but they made them that way.) Batteries should last for months, but sometimes the "default" batteries that come with these things are really cheap ones. I recommend Duracell batteries only because I saw a demonstration by a student at a NY county science fair that showed that they lasted best among the 3 or 4 brands tested.

Now for the other issues. Wireless keyboard and mice use 2-way radio signals to a radio unit plugged into a USB port on your computer. The radio unit gets its power from the USB port. The trick is to first press the little button on the radio unit which activates a radio channel selector that then looks for a keyboard and a mouse. On the underside of the keyboard and mouse is also a button to synchronize with the radio unit. Press each button once and that should get it communicating with the radio unit. Each time you replace batteries, press the button to synchronize the mouse or keyboard with the radio unit. That's all you should have to do.